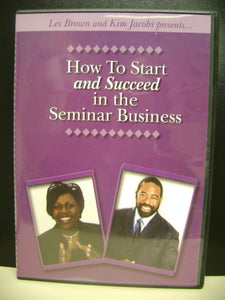 This intensive training CD and Workbook led by renowned motivational speaker Les Brown will teach you everything you need to know to start your own successful seminar business. You'll learn how to choose a compelling topic, develop your presentation, promote yourself, deliver a powerful seminar, and turn your passion into a lucrative career.
What you'll learn:
Get insider advice from a top professional speaker with over 20 years of experience
Discover a proven step-by-step system for building a seminar business from the ground up
Learn how to attract clients, close deals, customize your offering, and exceed expectations
Increase your income potential with effective back-of-room product sales strategies
Gain confidence and improve your speaking skills through interactive exercises
Network and brainstorm with like-minded peers for collaborative growth
Take your career to the next level and start living your dreams!